Summer is upon us. The weather is getting warmer, flowers are blooming, and we're all dusting off our motorcycles and preparing to ride. But before you do, you must make sure to have the best motorcycle pants for summer.
"Why," you may ask.
When the sun rises over Miami or the afternoons throughout Texas and California turn brown with heat, skin-tight pants are not what you'd want to wear on your ride. Even the most carefree motorcyclists need pants made for hot weather to feel relaxed and dry in the summer.
The long summer days can be a difficult time of year for riders. The last thing you want is to be stuck on your bike in 100-degree weather with no protection from the sun, wearing heavy leathers that make you sweat even more.
Coping with heat and humidity can be a workout in itself. So all rider guys should pick out their ideal pair of riding pants to ensure comfort under the scorching sun.
The Best Motorcycle Pants for Summer: Top 5 Picks
The best motorcycle riding pants are made from soft, breathable materials that allow air to circulate and keep you cool as well as dry. Many of today's popular brands offer styles for both men and women so you can find your perfect fit.
If ultimate comfort is your goal when riding under the summer heat, put on a pair of these babies and ride on.
---
Pros
---
Highly Functional
Long-lasting materials
Flexible stretch panels
Hip protection and knee sliders
Ready, Set, Missiles!
The Missile V2 takes its design cues from Alpinestars' race-proven Supertech R and best-selling GP Pro suits, but with a different construction that provides greater flexibility above the knee, around the waist, and down the ankle.
Updated for summer riding, the pants take advantage of strategically placed perforated panels with an exclusive liner to maximize airflow and cooling throughout.
The hotter the weather gets, the better your gear needs to perform.
At your discretion, there is zippered ventilation above the knee for internal air cooling.
Leather chassis construction offers improved flexibility. The credit goes to the CE-certified knee armors and KR-H hip protectors for an added layer of protection.
The D-ring waist adjustment ensures a customized fit irrespective of your body shape.
Armors at the shins provide abrasion resistance, and stretch panels above the knee minimize material bunching when bending your leg. The complete seat seam construction prevents seam bursting for extra durability.
Conquer the asphalt in style with the Alpinestars Missile V2 motorcycle pants!
What Makes It Tick?
Style and protection go together in the Missile V2 leather pants from Alpinestars. The premium leather main chassis is ergonomically pre-curved to reduce riding fatigue, and strategically placed stretch panels improve mobility and fit.
Mesh liner and ventilation panels keep your skin cool while you're blazing down the asphalt at 100 miles per hour. This classic design is ideal for any motorcyclist who appreciates safety, comfort, and style.
---
Pros
---
Super lightweight
Ample padding in critical areas
Removable vent panels
Adjustable features for snug fitting
Cons
---
Knee pads slide a little
No stretchy panels over knee and hip
The Joe Rocket Atomic textile pants are super lightweight, yet the heavy-duty 500D Hitena outer shell is durable enough to take on even the most strenuous ride.
The temperature-controlling pants are unique in its removable thigh vent panels that reveal FreeAir mesh.
Joe Rocket also incorporated plenty of nice touches, including a snap closure, adjustable waistband, and leg adjustments at the lower calf area.
Not only that, but you'll get peace of mind from the added safety features, like the knee pads and padding around your hip and tailbone. However, you may need to replace the knee pads because they slide a little.
The pants are sized to be worn over street clothes, so you may have to order up one size to fit over your jeans, for example.
The Atomic gets back to the basics of what makes motorcycle pants great to wear in hot weather: lightweight design, breathability, and available protection packages.
What Makes It Tick?
The Atomic textile pants are the perfect solution for when you need the protection of reinforced textile and leather, but not all the bulk. Not just lightweight, these pants are super-versatile with removable vent panels. Plus, they have a simple, clean look that looks great with your riding outfit.
---
Pros
---
Highly comfortable in hot weather
Abrasion-resistant polyester shell
Ample safety features
Made to take you on a ride across the country, Wicked Stock's summer riding pants have your back when you're rambling down the highway.
If you are looking for the perfect motorcycle riding pants to wear during the notorious Texas summer, your search should end here!
The pants are full of quality, reliability, and functionality, making riding in the summer an absolute pleasure.
From the 600D Polyester shell to the heavy mesh and CE level padding placed at strategic points made to provide you with lasting protection against abrasion while wicking away moisture as well as heat.
Extra thick padding on knees and tailbone offers added protection during a fall. A highly adjustable waist system uses belts and elasticated waist inserts to fit most waist sizes. The size runs smaller, so don't forget to check the size chart before ordering.
The Wicked Stock motorcycle pants were designed to perform in all elements when paired with quality riding boots and a motorcycle jacket.
What Makes It Tick?
Designed to withstand the harshest climates that Texas can throw at you, these pants bring all premium bells and whistles at a fraction of cost. They are lightweight and ultra-durable without sacrificing comfort and safety features. You will get a pair of pants with a 600D polyester shell and excellent protection.
---
Pros
---
Accordion stretch panels for flexibility
Made of premium bovine leather
Perforated and zippered ventilation
Excellent safety features
Cons
---
Hip armors are rated CE Level 1
Expensive
Stunningly beautiful in black with discreet A-star branding, these leather motorcycle pants are designed to take abuse in the saddle.
Reinforced knee and hip armors give confidence when you're ripping into corners and other stunts that make street bike riders quiver with excitement.
You can even adjust the hip armors with Velcro straps. The only complaint is the quality of these armors. They are rated CE Level 1 but should be at least Level 2 at this price point.
With premium bovine leather and mesh panels, the Track V2s are some of the coolest riding leathers imaginable.
Perforations on the thighs and chassis and zippered ventilation on the calves allow excellent airflow.
The pants provide superior protection, ventilation, and fit as you zip through traffic. Durable leather resists scratches and tears with a combination of ballistic poly-fabric in the knees and crotch area for added abrasion protection.
Accordion stretch patches above the knees and hip allow greater flexibility on the bike, while long stretch panels covering the calf area ensure a secure and comfortable fit.
You pay for a premium product and get premium performance and safety.
What Makes It Tick?
With the evolution of Alpinestars' class-leading race pants, the Track V2 incorporates a host of refined details, including an improved fit while maintaining its race functionality.
Stretch panels allow the rider to obtain a snug fit and security while the multiple ventilation panels ensure efficient cooling performance. Plus, it offers top-notch safety features that are rare to find even in the best of the best motorcycle pants for summer.
---
Pros
---
Super stylish yet comfortable
Protective armors
Suitable for daily wear
Cons
---
Size could be an issue
Exudes a chemical smell
Summer is biking season, and there's nothing worse than a stiff pair of jeans on a hot summer day. Don't worry. The MAXLER JEAN Biker Jeans is here to your rescue.
A clever combo of summer biker jeans and stylish streetwear, these are the perfect jeans for feeling cool on your motorcycle, even on the hottest days.
Not only are these denim pants a stylish choice for hot weather, but they are also equipped with top-class features for your safety.
The flexible spandex fabric outer shell and front, knee, and shin pockets make these the perfect biker jeans to wear daily.
There are air vent mesh panels on the thighs, behind the knees, and shin areas that will keep you cool. Last but not least are the removable and adjustable CE-approved knee protectors and hip armors. Removing the armors will allow you to use the pants like any regular jeans.
Sizing could be an issue with these jeans since the company follows the South Korean standards of body measurements. So, check the sizing chart carefully before making the purchase.
Off-gassing is another problem with these jeans. They exude a chemical smell, but it's supposed to go away after aerating and a couple of washes.
The MAXLER summer biker jeans are stylish and cool, and practical for all-day, comfortable rides.
What Makes It Tick?
Looking good has never been so safe and comfortable! MAXLER jeans have protective features for your motorcycle rides, and their stylish look makes them great for daily use. Plus, adjustable knee and hip protectors make these jeans safer than your average pair.
---
The Best Motorcycle Pants for Summer: Buying Guide
It's essential to have the right gear for summer riding, and pants are a vital piece of that outfit. You need summer motorcycle pants to save your lower body from boiling up in extreme heat.
Let's dive into a detailed buying guide, so you have no confusion over picking up the right one for you.
Why Do You Need Summer Pants for Riding Motorcycles?
What does the word "summer" bring to your mind? For me, it's the sun, feeling the warmth on my skin, and the beach. And if you ride a motorcycle, summer is about riding under the same sun and feeling that warmth… for hours on end.
I know what you're thinking — why not wear something light and breezy? Well, I'm sure some of you do (and more power to ya), but "light and breezy" won't protect you in the event of an accident.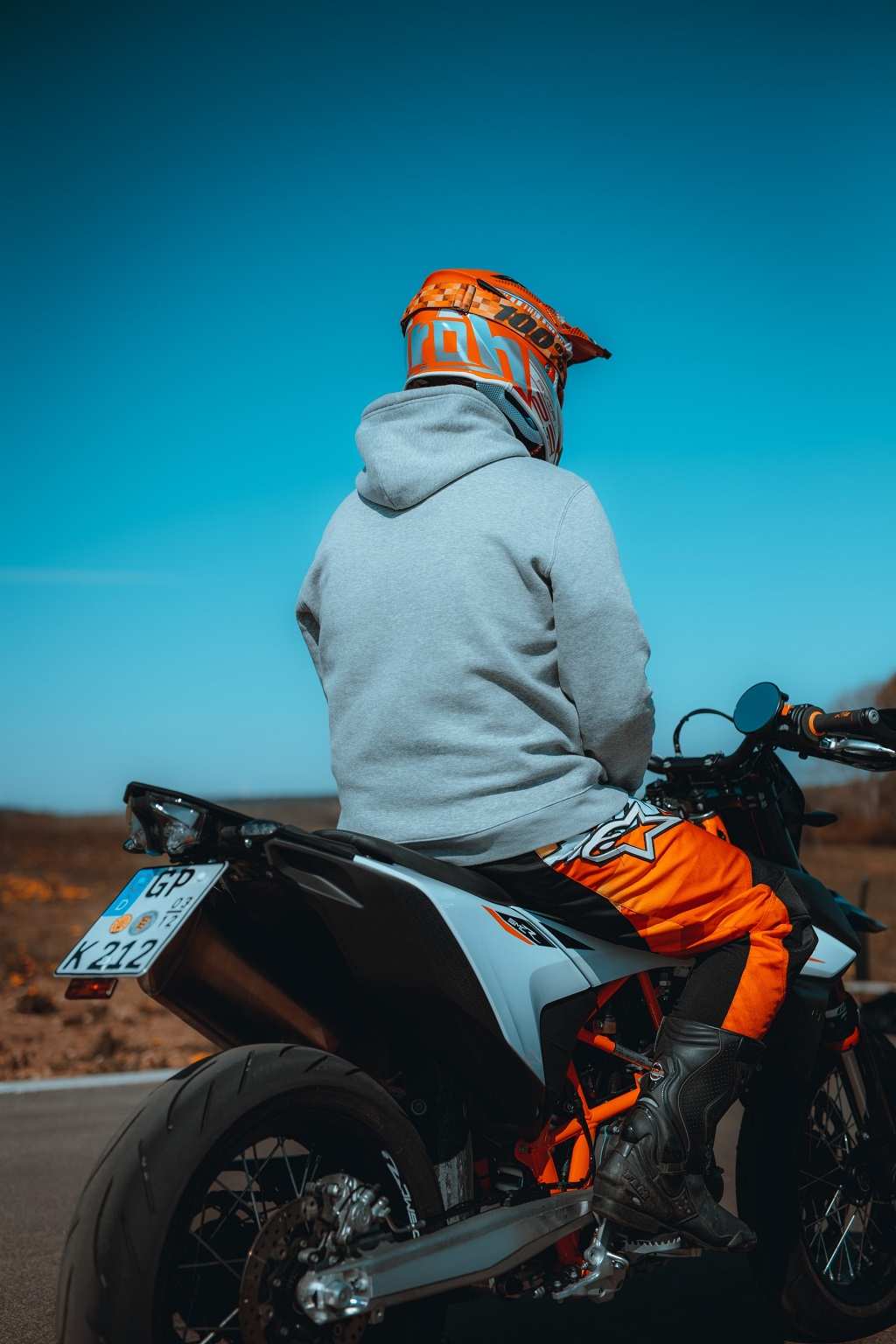 However, wearing regular jeans or leather pants while riding can get hot pretty quickly, so it's only natural if you're looking for something lighter to wear.
This is where motorcycle pants for summer come in. They're made to maximize venting performance to enhance riding comfort.
That said, rider protection and fitment are not their top priorities. These pants are all about the vents. Venting is what separates them from other types.
Ventilated motorcycle pants are generally less protective than their non-vented counterparts.
Various factors are in play here, including that they are often constructed with thinner materials to enhance airflow and avoid overheating.
The fitment of ventilated motorcycle pants is not as snug as non-vented pants (or at least it shouldn't be).
To maximize airflow, these pants must have a relaxed fit so air can enter and exit freely.
---
Features to Look for in the Best Motorcycle Pants for Summer
So what are the features to look for in the best motorcycle pants for summer? We're glad you asked!
Design
Your pants' design is crucial because it affects how they'll fit. The last thing you want is pants that are too loose or too tight—either way, they'll compromise your comfort and ability to stay safe out there.
When shopping for summer pants, look for holes with ventilation in strategic places such as behind knees or around thighs where sweat might often collect. Nothing ruins a beautiful summer ride like sandpaper-like chafing.
YOU MAY LIKE: Motorcycle Visibility Products for Better Road Safety
Comfortability
Top-quality summer motorcycle pants should have features that allow them to blend seamlessly into the shape of your body. Their fit and design are carefully crafted to provide the highest comfort level while riding.
Some of them may feature stretch panels on the knees and waist. These panels allow for better motion, and they help keep you cool even on hot days.
Stretch panels on the knees are handy because they assist with bending while sitting down or getting up from a low-to-the-ground position (like when you're wearing jeans). They also help reduce chafing by circulating air into your lower body.
The quality of these pants will give maximum saddle comfort over long riding periods.
Fabric
The fabric of your pants is also essential, especially if it's a warmer time of year. You don't want something heavy or constricting—instead, look for a lightweight material that breathes well.
Leather is not the best choice, but you can get the ones with ventilation options like mesh panels.
However, synthetic fabrics like nylon and polyester are the best options for hot weather.
Mesh for Ventilation
Another vital feature to look out for is excellent venting; this will allow proper air circulation within the pant's frame, keeping your skin cool.
The ventilation system should allow more than enough airflow yet still retain the pants' durability and weatherproofing qualities against excess heat and moisture.
Impact Zone Protection
The reality is that when it comes to pants, injury potential is just higher. You have to worry about impact zones like knees and hips. These are also the areas with high tear-risk.
Hot weather motorcycle pants are not geared toward protective features, but the high-quality ones are likely to have zonal protection for high-impact areas.
Pants that come with an extra layer of solid fabric on the impact zones might cost a little extra, but safety should always be your priority.
Armor with CE-Certification
All riders want their gear to look good and fit well while they're out on the road. But what matters is how much protection your pants offer. If possible, choose a pair that includes CE-approved armor at the knees and hips.
An independent European body issues CE certification, ensuring a certified level of protection at high-impact areas like your knees and hips.
In the case of a slide or other accident on your bike, this armor plays a crucial role in protecting you from serious injury.
But if your summer motorcycle pants don't come with armor, don't worry—it's easy to buy aftermarket armor for insertion into any pant style.
---
Why Are Fabric Pants Better than Leather in Hot Weather?
Good ol' cowhide is excellent for riding during the colder months, but it becomes a major liability when temperatures start rising. When the weather turns hot and humid, there are a couple of reasons why fabric pants are more desirable than leather.
Why leather pants suck in hot weather
Leather is robust, resistant to abrasion, and offers solid protection against the elements. Leather pants work great in winter because of their thermal insulation qualities. Thanks to their waterproofing capabilities, they are also more protective than textile ones in rainy weather.
However, leather is less comfortable to wear on a sweltering day because it doesn't breathe very well. It tends to absorb sweat and moisture that can make your pants heavy and uncomfortable.
The best way to avoid this is to wear a pair of long johns underneath your leather pants — but that might still be too hot for some riders.
For all these reasons, manufacturers started looking for alternatives to leather for summer-riding pants and found them in polyester and nylon.
Some motorcycle leather pants are designed with hot weather in mind. These pants have extensive perforation areas and stretch panels for better airflow and fitment.
Why fabric pants rock in hot weather
Most summer riding pants are made of polyester or nylon (or both) since these synthetic fabrics are lightweight and pliable. These attributes make them ideal for warmer temperatures. Unlike leather, polyester and nylon can be densely perforated with air-letting holes without destroying the strength of the fabric.
Textiles are generally lighter and more breathable than leather. They offer excellent ventilation, which is perfect for hot weather riding.
---
Which Protective Gear Should You Use with Summer Motorcycle Pants?
Summer motorcycle pants are not made to protect a rider who ends up sliding across the street or crashing into the asphalt at high speeds. Most of them are weaved of thinner material than other types of pants.
So, wearing these pants means you'd better invest in some aftermarket protective gear as well.
The best motorcycle pants for summer come with CE-certified armors on the knees and hips already sewn in. But we still suggest adding premium aftermarket knee pads and hip armor for better protection.
Also, be careful when buying summer pants with mesh panels on the knees and across the hips and buttock area. The mesh panels are more vulnerable to tearing in an accident than other materials like leather or Kevlar.
---
Conclusion
You wouldn't go to the gym in a bikini, would you? Or hike up a mountain in flip-flops? That's kind of what it's like to ride your motorcycle on a hot summer day without wearing proper pants.
The best motorcycle pants for summer will keep you cool and comfortable so that you can focus on the journey ahead.
Alpinestars Missile V2 is our Editor's Pick, but all pants on this list will provide the ultimate riding comfort during hot weather.
Have fun choosing your new favorite pants, and put them to good use!
---
FAQs about Best Motorcycle Pants for Hot Weather
What do you wear on a summer motorcycle ride?
Wear clothing that is light and airy to stay cool and comfortable. Ventilated jackets and pants are the best options. Consider applying sunscreen on the exposed skin and protect your noggin with a well-ventilated full-face helmet. All your gear and clothing should be light-colored to deflect the sunlight and heat.
What type of motorcycle pants are best for hot weather?
Breathable textiles like perforated leather, mesh, or twill fabric allow air circulation and help keep you cool. Look for pants with vents, zippered openings, and removable knee armor.
Is it OK to wear leggings on a motorcycle?
You can, but leggings will provide zero protection in the event of an accident. However, there are leggings specially designed for motorcycle riding. They will offer a combination of comfort, fit, and safety.
What to wear riding a motorcycle in 100 degree weather?
When riding a motorcycle in 100-degree weather, you need to dress appropriately for the weather conditions. It means wearing clothes that will keep you cool and protect you from the sun. It is also necessary to wear a helmet and gloves for protection from injury. Don't expose much skin, and apply sunscreen generously.
How should motorcycle pants fit for comfort in the heat?
Loose-fitting pants will allow more airflow and ventilation which helps reduce heat. The pants should have a roomy fit through the thighs and calves but not so baggy that they flap or restrict movement. An elastic waistband also helps offer a cool and comfortable fit.
Can I wear stretch denim motorcycle pants in hot weather?
While stretch denim offers mobility, the material itself traps heat and retains moisture. Regular denim pants are not typically recommended for hot weather riding due to their lack of breathability. Opt for more breathable textiles designed specifically for warm temperatures.
Should I wear liners under motorcycle pants in hot conditions?
It is best to avoid wearing liners or under-layer pants underneath hot weather motorcycle pants. Liners and base layers can trap heat and make you feel hot and sweaty, reducing the effectiveness of the breathable outer shell.