Torc T1 vs Bell Bullitt—how do you choose between the two of the best retro lids on the market?
If you're looking for a full-face vintage-style helmet with a badass look and an attitude to match, these two models are worth checking out. Both offer a handful of similar features, so it can be hard to decide.
We'll give you the lowdown on what these helmets can offer, what they might lack, and how they stack up against each other. If you're torn between these options, we're here to help.
Torc T1 vs Bell Bullitt: Pick the Better Retro Helmet
Retro-style motorcycle helmets can be as functional as their modern-looking counterparts but with the extra style appeal that comes from classic aesthetics.
Both the Torc T1 and Bell Bullitt have retro-inspired designs that bring to mind motorcycles from decades past. But which one is better? Let's find out.
Let's start with their similarities:
Both helmets are DOT (Department of Transportation) and ECE (Economic Commission for Europe) approved.
They will keep you safe in an accident and protect your head from impacts or abrasions.
Both are made with fiberglass composite shells in multiple sizes.
Now jump into a side-by-side comparison between Torc T1 and Bell Bullitt:
Aesthetics — Winner: Both
The Bullitt is the more modern look of the two, but the T1 goes for a much more classic vintage feel. If you're riding a café racer, the Bullitt is the right choice. It also looks excellent on a street fighter or an old-school chopper and would make those bikes look even cooler. If you're riding a cruiser or bobber, it's probably best to go with the T1.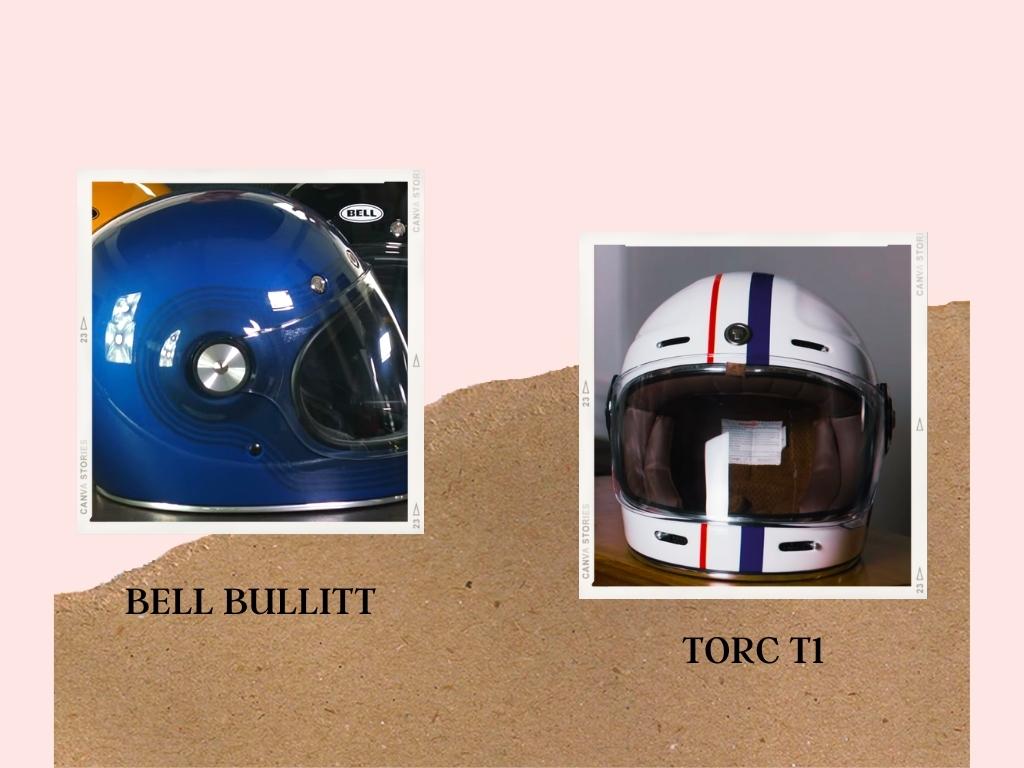 The Torc T1 should be the automatic choice if you're looking for a sleek, clean design that makes a statement without being too flashy. This helmet has an airy feel—it will make you feel like you're floating down the freeway on a cloud.
The Bullitt is a suitable choice if you want to get that vintage feel while still having all of the modern features you need to keep yourself safe on your ride. It's sleek and stylish with its minimalistic design and doesn't sacrifice comfort or safety for its looks.
SEE MORE: Best Retro Motorcycle Helmet: Top 5 Picks
Construction — Winner: T1
The T-1 is constructed using a fiberglass tri-composite shell. This construction method is the same kind of process used to make high-quality racing helmets.
The most significant advantage to this type of shell is that it feels solid without putting much weight on your neck.
The Bullitt uses a low-profile fiberglass composite shell. The shell is quite strong but not as light as the T1. It weighs around 3.24 lbs (could vary slightly based on the size), while the T1 is only 2.7 lbs.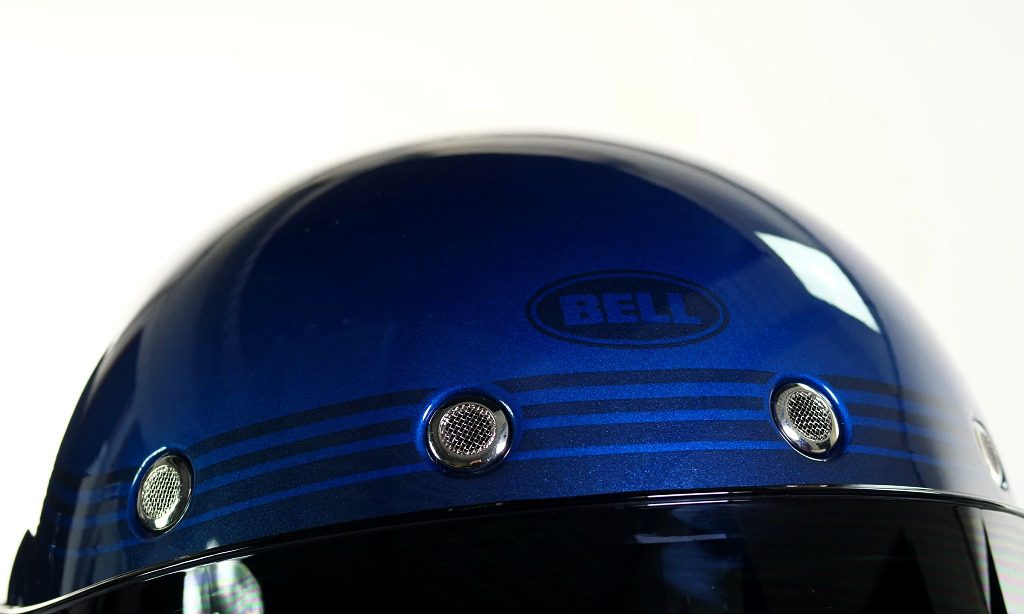 Safety Certifications — Winner: Both
Do you know what's great about T1 and Bullitt helmets? They're both up to safety standards.
Your safety is our top concern, so that's the first thing we cared about when we brought you these products.
Both helmets are DOT and ECE approved. They have been tested for their ability to protect your noggin in a crash, allowing you to ride with peace of mind.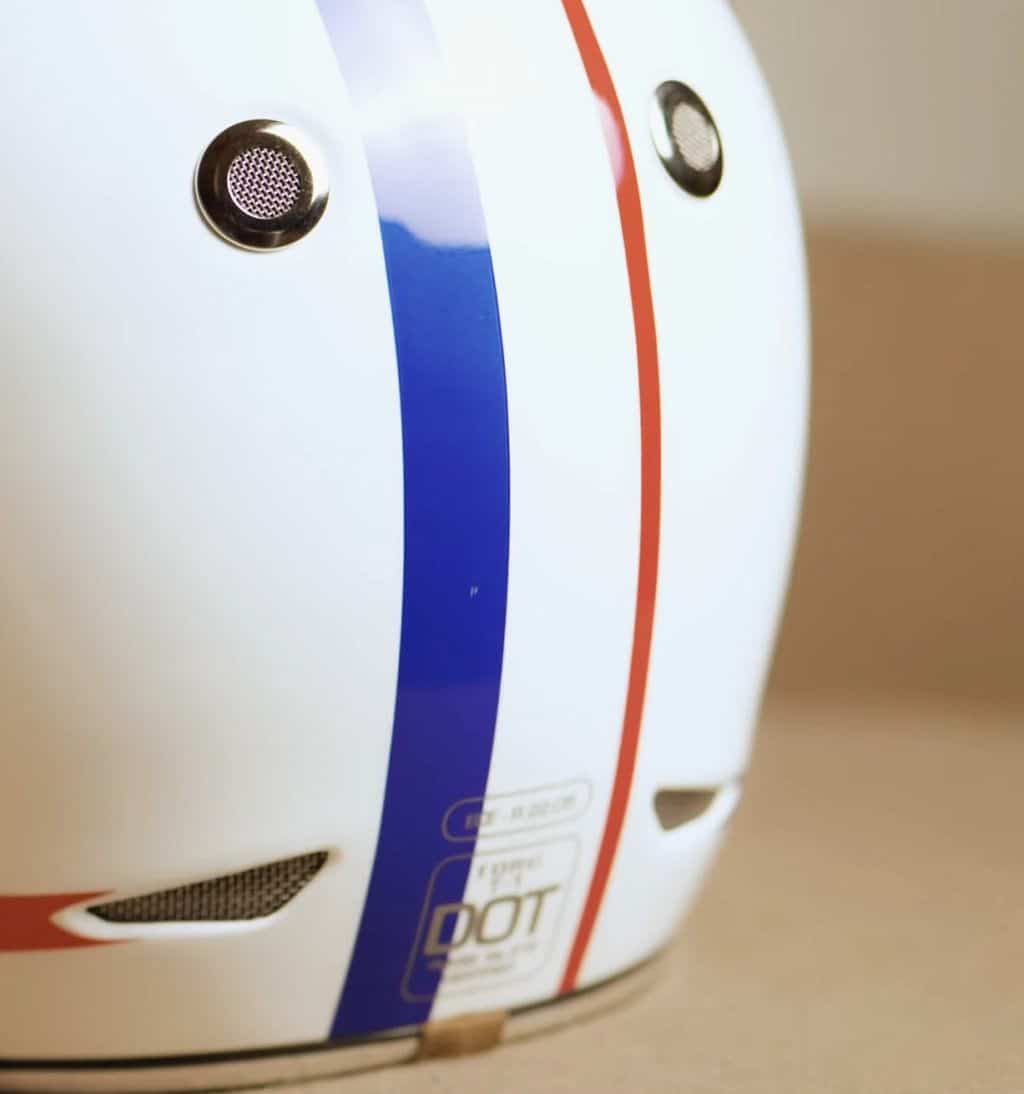 They also have a multi-density EPS liner, which means you get high levels of protection without added weight.
The liner maximizes impact energy management and protects against low- and high-speed impacts.
And both of them are made with fiberglass shells that are designed for maximum strength and minimal weight.
Although the Bullitt is slightly heavier than the T1, they won't put a burden on your neck.
Fit and Comfort — Winner: Bullitt
A too-tight helmet can cause a headache after a long ride. On the other hand, if a helmet is too loose, it may slide out of place in an accident and not protect your head as well as it should.
When choosing between the Bell Bullitt vs Torc T1, it's important to consider fit and comfort.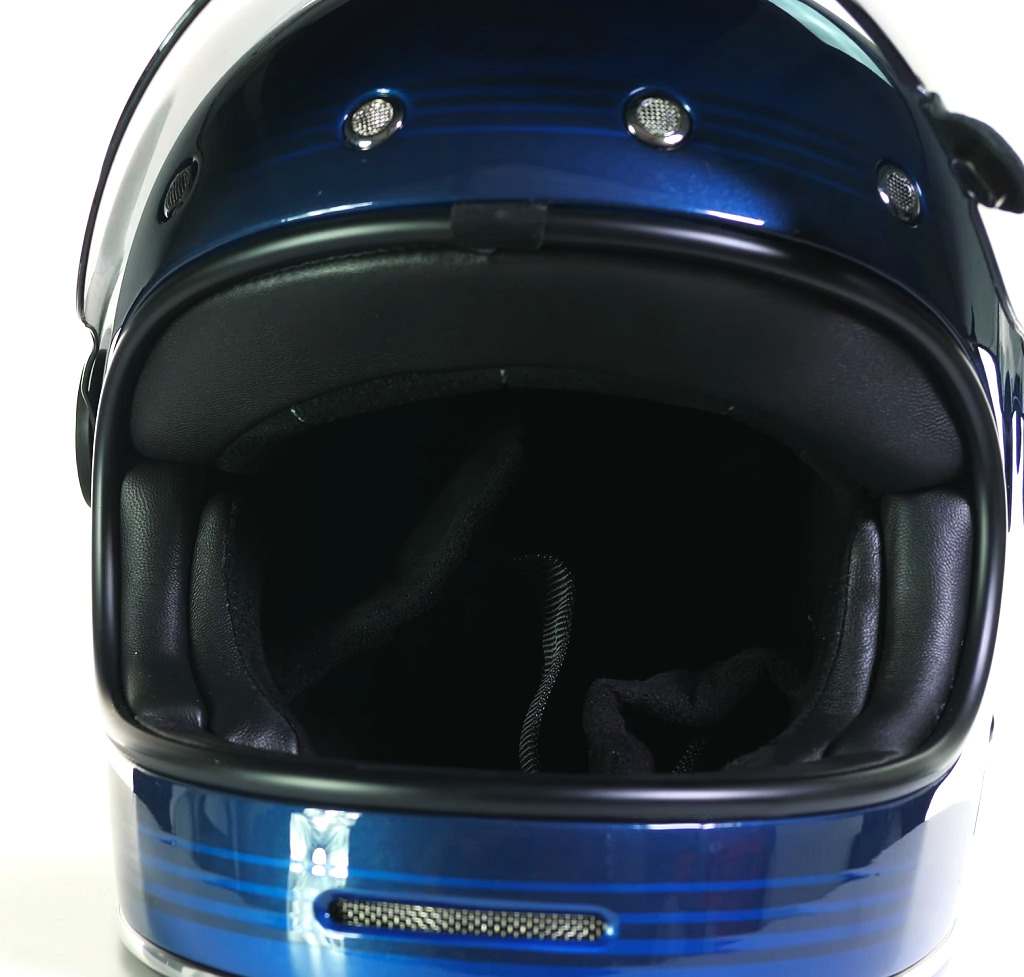 Both helmets offer excellent ventilation. This is where both helmets are similar. They both have front chin vents with metal mesh intake and exhaust vent. They provide ample airflow and keep your face cool all day long.
T1's vents feel a bit cheap, but they do their job nonetheless. However, Bullitt is the clear winner if you are after a low-noise helmet.
T1 is suitable for short trips, but the windy sound feels annoying when you ride at speeds on the highway. So, using earplugs is your only option for long rides.
If you're looking for a super comfortable helmet with low noise, look no further than the Bell Bullitt. Its genuine leather interior feels luxurious and soft to the touch.
Now, let's talk about fitment. If you have a round, oval head, you will find a snug fit with Bell Bullitt but if your head is intermediate oval, go with Torc T1, which offers more roomy fitment.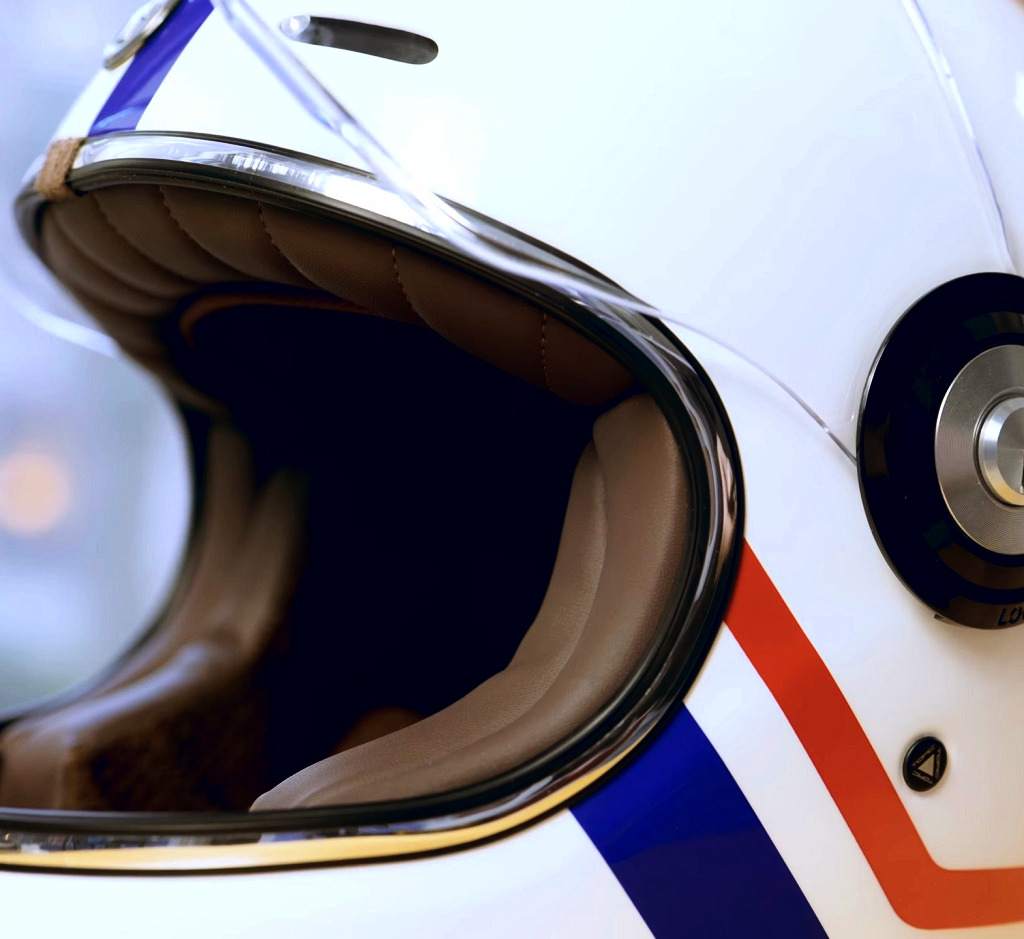 Price — Winner: T1
The Bell Bullitt costs almost twice as much as the price of Torc T1. Is it worth paying more to get a high-quality retro motorcycle helmet?
If you have the money and can't compromise with luxurious comfort and feel, Bullitt is the one for you. But is it two times better? Definitely not. It's an exceptional helmet but doesn't offer anything of significantly high value than its cheaper cousin, the Torc T1.
Why does such a disparity exist between these two helmets? The main reason is materials: components like the shell, padding, and hardware are all superior quality in the Bell helmet (and why it weighs more).
That said, everything about the T1 feels very solid and well-assembled too—you can tell by wearing it that it's no cheap piece of junk.
So, if the price isn't an issue and you're looking to ride around with some serious retro swagger on your skull, the high-end Bullitt is definitely worth your consideration.
But price does matter, especially when T1 does not lack much except for a few cheap features here and there. It will provide the best bang for your bucks.
The Verdict — MOTOZMO's Winner: Torc T1
Comparing Torc T1 vs Bell Bullitt retro helmets, it's safe to say that both have their strengths and a few weaknesses. But when you consider the price points, T1 offers almost the same features at around half of Bullitt's price.
Yes, T1's faux suede interior feels a little cheap and does not feel as soft as Bullitt's genuine leather liner. Also, it can get annoyingly noisy at speeds, but none of these things is a deal-breaker.
Torc T1 hits all the safety points, has an excellent finish, and looks stunning. And you get the package at a very reasonable price. Bell Bullitt looks and feels premium, but it offers almost similar features at a much higher price.
Which one do you prefer? Let us know in the comment section.