So you've got your leather jacket, studded motorcycle boots—and your hog is ready to rev down the road. But there's still something missing, something that makes you look like a good ol' hunk or a cool biker chic.
Correct! You need a retro helmet. Vintage-style headgear can be the difference between making you look like playing dress-up and the real deal. So I've compiled a list of the best retro motorcycle helmet names on the market today. You will love them if you like the look and feel of old-school helmets.
Here at MOTOZMO, we love vintage motorbike accessories, and we want to make sure that you know about all the best options out there.
Ready to jump in? Let's go!
5 Picks for the Best Retro Motorcycle Helmet
Now, we all know that motorcycle safety has come a long way since World War II. But what if I told you that you could leverage those old-school styles into cutting-edge safety with just a little bit of knowledge and some research? Well, buckle up—that's exactly what we're going to explore today.
Here are our top 5 picks for the best retro-style motorcycle helmets:
---
1
---
TORC T1 Unisex-Adult Retro Full-Face Helmet
Forget about boring, uncomfortable helmets that make you feel like a dork when riding.
The TORC T1 Unisex Retro Full-face Helmet gives you comfort, style, and safety in one package.
You'll love how it keeps you safe from crashes, wind, and debris—and you'll look great doing it!
Pros
---
Beautiful vintage style
No loss of visibility
Excellent airflow for a full-face helmet
Lightweight for a retro helmet
Adequate inner padding
Faux suede liner
Cons
---
Not the quietest full-face helmet
Size runs larger
Make and Style
The TORC T1 has a classic retro style. It's lightweight for its retro style but still slightly heavier than other full-face helmets.
The helmet comes in different sizes that fit a wide range of head sizes, and it will best suit intermediate-oval head shapes. However, they run on the large side, so you might need to go down one size when ordering online.
This helmet is available in many colors, including gloss Tiffany, white, black, bubblegum mega flake, and Hi-Viz orange. You can also add graphics to your helmet or have a custom paint job done by certified painters.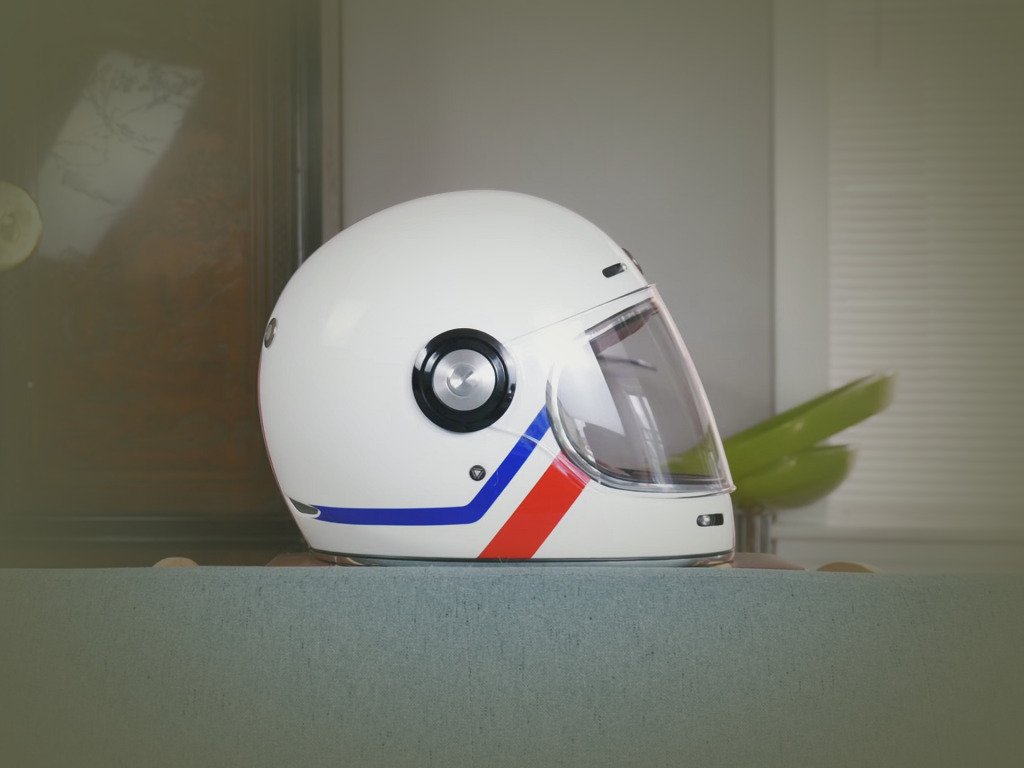 The retro look is complemented by TORC's aggressive styling and detailing—like the TORC logo emblazoned at the front of the shell and cool prints and stripes on some models.
Because of the unisex style and availability in small and medium sizes, this helmet will fit the lady bikers too. Various loud to lush and mute-colored options cater to a wide range of tastes.
Safety and Comfort
The TORC T1 helmet is a DOT-approved full-face motorcycle helmet that comes in sizes XS to XXL and fits a variety of head shapes.
The helmet is made from a lightweight composite shell to offer maximum protection and comfort. It has a removable shield to protect your eyes from high-speed wind, debris, and other obstacles.
The face shield is also anti-scratch and anti-fog, which means better visuals in harsh conditions. Unlike many full-face helmets, this one provides excellent visibility even when you look over your shoulder when riding.
The faux suede liner gives you a look and feel of luxury at an affordable price. The cushioning is so good that it cradles your head. While absorbing impact and jolts, the inner padding has indentations for housing Bluetooth comms.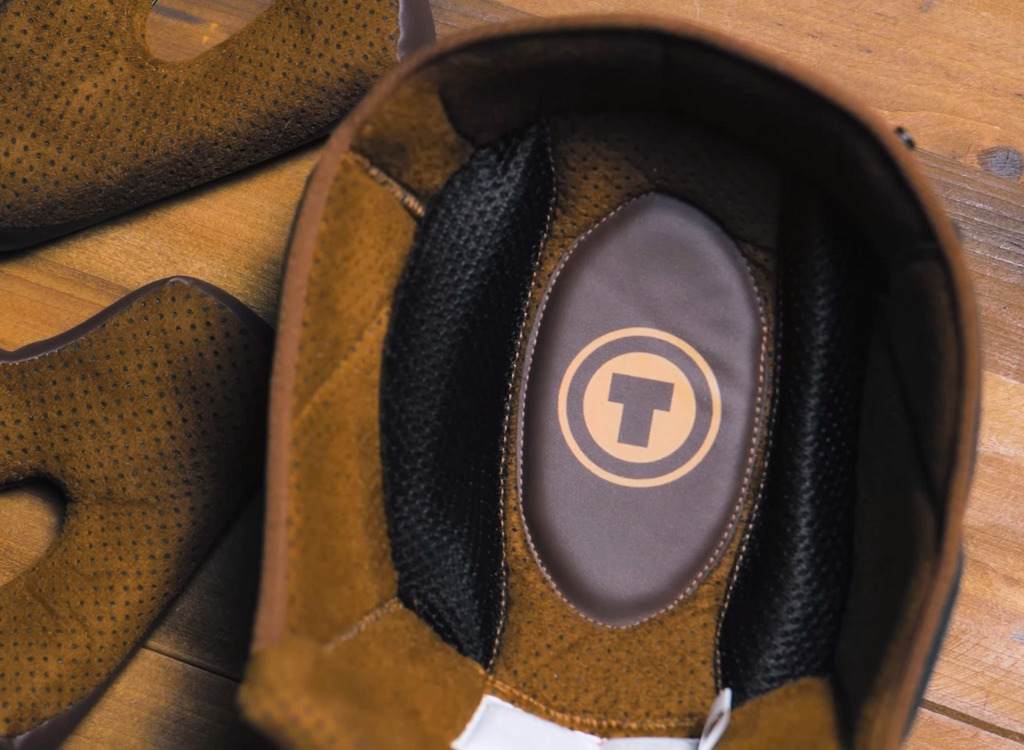 The padded chin strap has a D-ring closure, making it easy to get in and out of your helmet as needed. The front chin and forehead vents have metal mesh intake and exhaust vent capabilities to keep you cool when things heat up—whether you're on the highway or just trying to beat the heat on your way home from work.
Unfortunately, the helmet is not the best option if you wear glasses. The inner padding leaves little room for the arms of the glasses. Even if you manage to get them on, they won't sit right because of the tightness.
However, some riders face no problems wearing their glasses or sunglasses. It depends on the helmet size and head's shape.
The TORC T1 helmet is designed to fit you and your lifestyle perfectly. I know you're looking for a helmet that will look good, feel good, and do good by your noggin—and that's what this helmet is.
Noise Level
The TORC T1 Retro Helmet is not the quietest helmet on the market, but it's also not the loudest. It is aerodynamically designed to deflect wind, but not quite as well as many other full-face helmets.
You'll notice wind drag when you turn your head for lane changing and other driving maneuvers, which can get noisy. That's why I recommend installing a chin curtain like the HJC CL17 or HJC IS-Max. Both will fit like a glove with slight modifications and minimize the noise impact of wind drag while riding.
If you want a completely noise-free environment, wear earplugs combined with the chin curtain.
Why would I recommend this helmet?
This full-face helmet has a nice styling with adequate protective features to shield your dome while riding.
The TORC T1 is one of the best-looking retro helmets on the market. The helmet is exceptionally well-made and feels very solid. The shell is a fiberglass tri-composite material that can resist high impact.
Also, the helmet is much cheaper (almost half the price) than the Bell Bullitt helmet. If you are after a classic full-face helmet but don't have the budget for a premium model, TORC T1 is an excellent choice. It has all the bells and whistles of a high-end helmet barring a premium price tag.
The T1 is perfect if you want an old-school-style helmet with excellent safety standards. It's got a comfortable fit, is not heavy and doesn't fog up. It offers good protection from the elements and will keep you safe in low-speed crashes.
Have you tried this helmet out? What did you think about it?
---
2
---
Bell Custom 500 Carbon Open-Face Retro Helmet
Are you looking for a motorcycle helmet that combines the look of old-school helmets with the space-age technology of modern motorcycling?
Bell's Custom 500 model is a durable, lightweight option that can keep you safe on the road while not compromising on style.
Pros
---
Beautiful three-quarter retro helmet
Multi-density EPS liner
Carbon-fiber shell is lightweight
Fits like a glove
Meets all safety standards
Cons
---
Runs on the smaller side
No face shield or visor
Make and Style
The Bell Custom 500 Carbon is a vintage-style open-face helmet with a modern twist in terms of construction and design. Its overall profile hasn't changed much over the years, but its structure has undergone improvements to meet current standards.
The exterior appearance of the Custom 500 is inspired by its 1950s predecessors and takes visual cues from classic motorcycle helmets. The retro look has remained relatively unchanged since first introduced in 1954, making it instantly recognizable even 70 years later.
The helmet comes in four different color choices that look good with most premium biker outfits. In fact, Bell makes it easy to coordinate your color scheme by offering jackets and gloves in matching styles and colors so you can put together an entire riding outfit.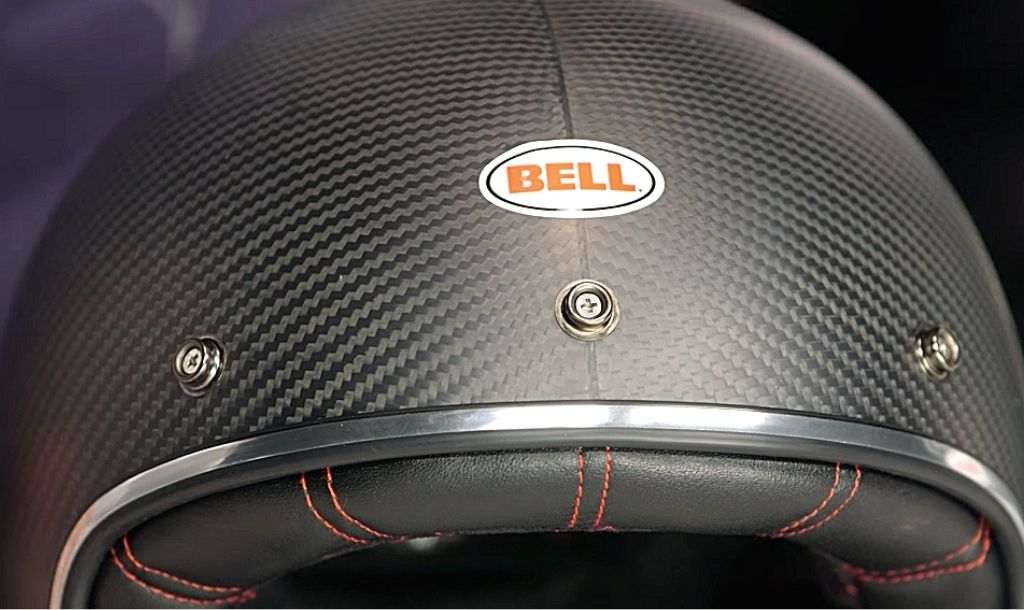 Safety and Comfort
The shell of this version is made from carbon fiber, with carbon fiber infused into a composite matrix of raw Kevlar to offer maximum protection while keeping the weight down.
Riders who dread the mushroom head like a plague will love the helmet's low-profile build. However, a thin construction does not affect its comfort properties. Its plush interior lining keeps your head snug and protected from road turbulence but still feels light and cool on hot days.
A genuine leather interior gives the Custom 500 a premium look and feel. Every avid rider will genuinely appreciate the lining's antibacterial property. It's possible to remove and wash it if necessary.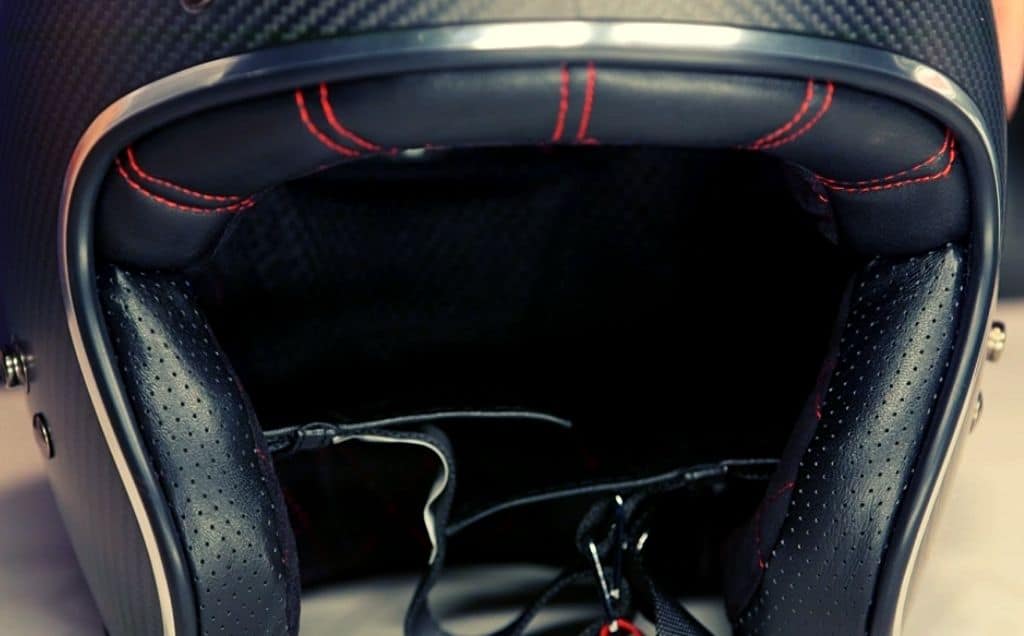 Multi-density EPS liner and carbon fiber shell keep your noggin safe whether you are cruising on city streets or carving up twisty mountain roads. Also, it's DOT, ECE, and AS approved, so you don't have to worry about risking life or limb for the sake of style out on the open road. This is incredibly reassuring if you happen to go down at freeway speeds.
The helmet is available in 5 different sizes, but it runs on the small side. You are likely to have a better fit if you order one size larger. Once the size is correct, it will fit like a glove, leaving no gaps between your forehead and cheeks.
Bell does not offer any face shield or visor with this helmet, but there are plenty of choices if you want to purchase Custom 500 accessories. There are many different options for bubble shields, flat shields, and visors.
Noise Level
You didn't buy this helmet because you wanted a quiet ride, right? You bought it because you wanted to look like Peter Fonda in Easy Rider.
But if you want to make it less noisy, use an aftermarket face shield (Bell has both bubble and flat shields) and block your ears with earplugs.
Why would I recommend this helmet?
The all-new Bell Custom 500 carbon open-face helmet results from nearly 70 years of history and heritage in head protection. This one has to be on our list of the best retro motorcycle helmets because of having superior materials, incredible fit, and a throwback style to rival any other make.
It's an attractive helmet. In fact, you can see why custom-designed helmets were so popular back in the day. The possibility of donning a 50's style is something to be envied by your peers. I may be dating myself here, but this is how I felt about my 1978 Honda XL125S when I first got it.
The Bell Custom 500 is for you if you're looking for a modern open-face motorcycle helmet with a retro look. It features a carbon-fiber shell and multi-density EPS liner, providing improved safety and comfort over the old-school helmets outclassed by today's DOT standards. It's well made, looks great, and offers plenty of protection.
---
3
---
LS2 Open Face Spitfire Retro Helmet
Rock a vintage style with an LS2 open-face Spitfire retro helmet. It will make you look like an actual World War II fighter pilot.
It's got cool graphics that pay tribute to WWII aircraft nose art, standard safety features, and excellent comfort.
Not to mention it's one of the cheapest helmets on this list.
Pros
---
Super cool retro helmet
Graphics paint has lovely details
You can wear eyeglasses with the visor on
Lightweight shell
Reasonable price
Cons
---
Runs on the smaller side
No forehead snap for bubble shield
No foolproof eye protection with the visor
Make and Style
What's the point of wearing a helmet if it doesn't look cool?
I mean, I'm not gonna lie: safety is a good reason. But when you're out there on two wheels, the last thing you want to do is put on some ugly helmet that makes you look like a dweeb.
You want to look like a COOL BIKE RIDER, right? And let's be honest: WWII-style nose art is way more fantastic than anything else. You know, with the fire-breathing dragon, the sexy lady, or whatever.
The LS2 open-face Spitfire retro helmet is like a time machine that could easily transport you back to the 1940s. The excellent graphics pay tribute to old aircraft art, and the paint is nicely detailed and shiny—just like you'd expect on a plane of that era. The drop-down visor adds to the overall cool factor, as well.
Strap on this bad boy, and you'll feel like you're piloting a Spitfire plane over the beaches of Normandy. It will make you look like an aviation pro in the saddle.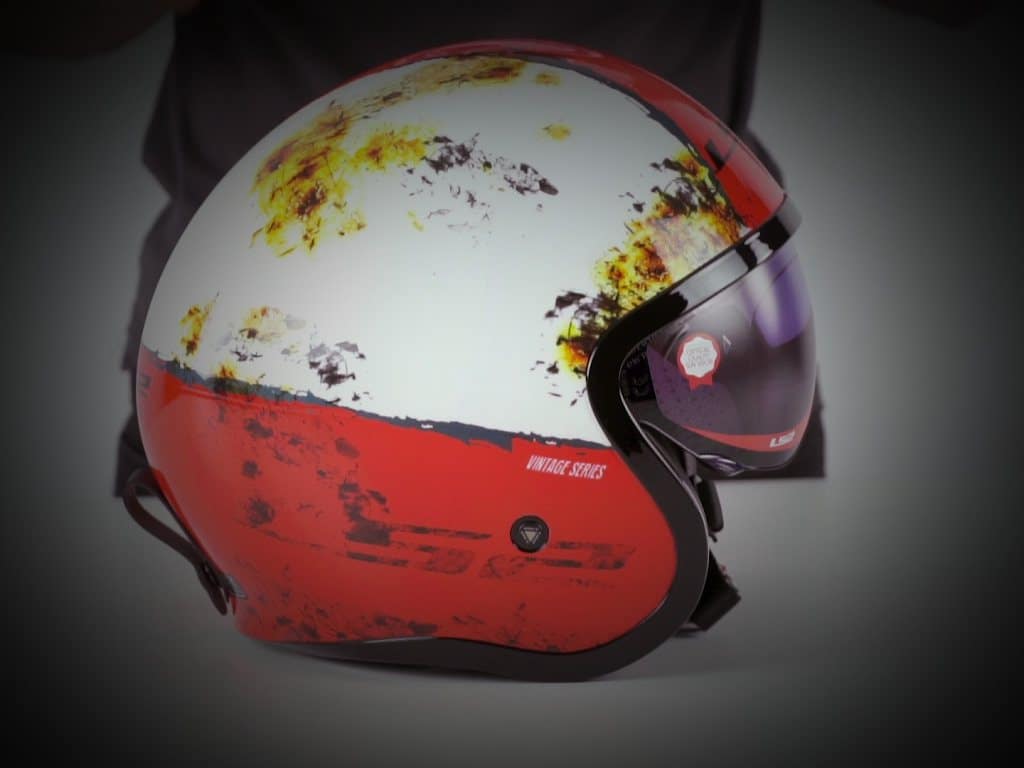 Safety and Comfort
It's comfy, stylish, and keeps your head safe.
The LS2 Spitfire is an excellent addition to any rider's safety arsenal. It has a shell with High-Pressure Thermoplastic Technology (HPTT) and an EPS impact absorber that work together to protect your noggin from any impacts, no matter how hard.
The helmet runs on a slightly smaller side, so check LS2's size chart before placing an order. It has a lightweight and sturdy feel. That means it will still protect your head in the event of an accident while also giving you a comfortable fit and less neck strain.
The sun visor is big enough for housing glasses underneath, and it blocks the sun extremely well. There's enough interior padding to be comfortable for long rides, and it will break a little with time.
With laser-cut foam padding for extra comfort and hypoallergenic padding that's both removable and washable, this helmet is like your childhood blankie—it'll keep you safe and cozy no matter how far or fast you're going.
And with the hypoallergenic padding, you'll never have to worry about mold or dust mites building up in your helmet. The padding is easy to take out and clean, so you can ensure it's always fresh for the next time you need it.
The reinforced chin strap is easy to close and release with one hand. It also makes sure no loose ends are flopping around when you want to enjoy a smooth ride. So putting it on will always be as easy as slipping into your favorite pair of fuzzy slippers.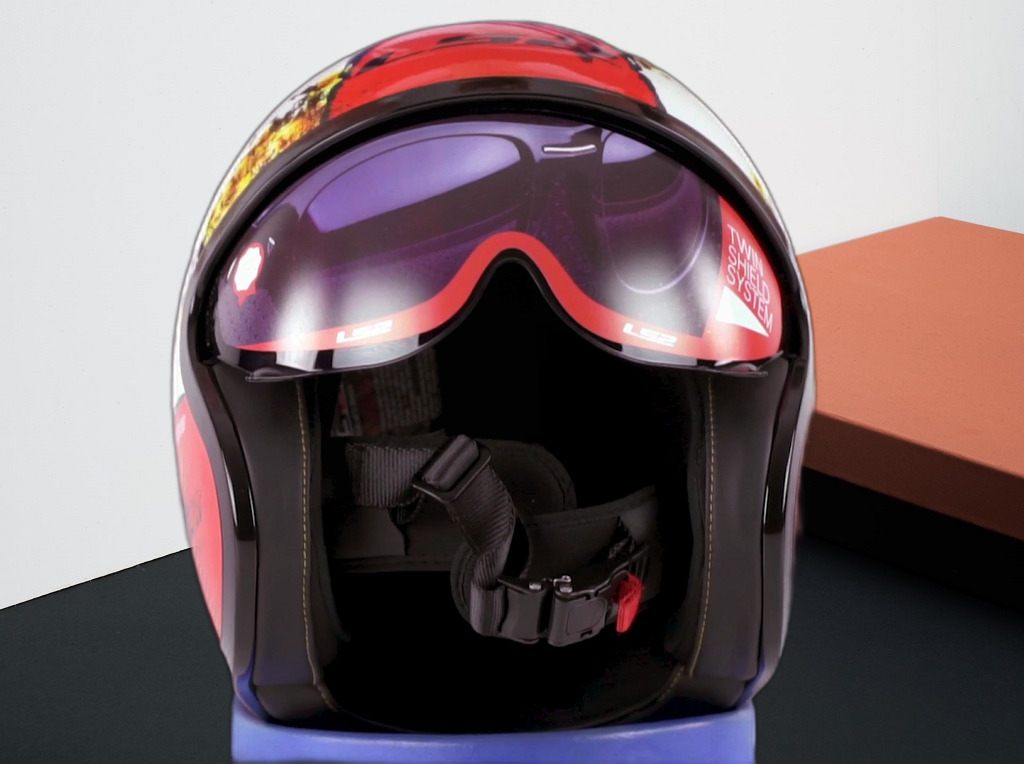 Now, most people probably think there has to be a catch to such a low-priced helmet with all these features. There is no forehead snap for attaching a bubble shield (if you want it).
Many riders might be more familiar and comfortable with a D-ring than a ratcheting chin strap. It'd also be a problem if your helmet lock system relies on a D-ring locking.
Noise Level
LS2 Spitfire is a three-quarter helmet, so it'll be noisier than a full-face and quieter than a half helmet. You can use earplugs for better buffering.
Also, the visor does not block the incoming wind on your face when you are riding at high speeds. Use proper eye protection for blocking wind and receiving better visuals.
Why would I recommend this helmet?
This open-face helmet sports a glossy paint job and graphics that tribute to the World War II aircraft. And this is super cool.
You know what else is cool? The fact that this helmet is DOT approved and boasts an advanced polycarbonate shell with high-pressure thermoplastic technology.
That means it's lightweight but super strong and can absorb energy from impacts.
If you're looking for a helmet as comfortable as good-looking, you've found it in the LS2 Spitfire.
---
4
---
GDM Rebel Vintage Motorcycle Helmet
Don't you just love it when the past meets the future?
If you're looking for a bit of retro-cool in your motorcycle helmet, look no further than this ultra-stylish GDM Rebel vintage helmet.
It's the perfect way to protect your noggin while cruising around town on your café racer.
Pros
---
A stylish full-face vintage helmet
Strong ABS outer shell
Inner foam padding
DOT-approved
Cons
---
A little discomforting for oval-head people
No face shield
Non-removable liner
Make and Style
If you're the kind of person who knows a motorcycle is just a vehicle and not a way of life, you probably won't care about this helmet.
But if you live for that sweet smell of gasoline in the morning, and every time you ride down the highway is like a scene out of The Wild One, then this is the only helmet for you.
The GDM Rebel is the perfect blend of old-school style and modern safety. It has an injection-molded ABS outer shell with an expanded polystyrene inner shell, providing structural integrity and comfort.
And if you're looking to make a statement on the road, its super cool retro look will have heads turning everywhere you go. It also boasts a classic shape that makes you wanna throw on a pair of leather chaps and rev your engine.
Safety and Comfort
The helmet's outer shell is injection-molded ABS, and the inner shell is expanded polystyrene, which means it's flexible enough to hug your head while remaining firm enough to take a beating.
This helmet is equipped with a quilted foam padding liner inside, keeping your head comfortable and cushioned in the event of a collision. Unfortunately, the inner liner isn't removable, so you may have to throw it away if it gets dirty.
Also, if you have an oval head shape, this helmet might not fit comfortably—so make sure to measure your head and check GDM's sizing chart before purchasing.
The GDM Rebel isn't for everyone because it's not the most comfortable for long rides. So if you're looking for a full-face helmet that will protect you from windburn (or worse) on a cross-country road trip, look elsewhere.
But if you're looking for something that will make heads turn at the next motorcycle rally or want to keep things simple while riding around town on your café racer, this is the perfect fit.
Noise Level
The helmet blocks wind sound pretty well since it's a full-face helmet. However, it does not come with a visor or face shield. So, you have to install them separately to keep the noise down.
The good news is any aftermarket standard sun visor, and face shield will fit with this helmet.
Why would I recommend this helmet?
Ride like a rebel and live like a rockstar with the GDM Rebel vintage motorcycle helmet.
It's got the right look to make you feel like a total baddie on your bike—and it's going to keep you safe. What more could you ask for?
Good looks and safety features—that's what makes this helmet special. It's got foam padding, and it's DOT certified, so you know it'll protect you from hard impacts.
It also has a quick-release buckle that makes it easy to put on and take off, and the sleek design will make you look as cool as any vintage motorcyclist ever did.
You're going to ride in style with this helmet—that's for sure.
---
5
---
ILM Vintage Half Motorcycle Helmet
Looking for a helmet with a little edge?
The ILM half helmet combines the look of a 1950s racing helmet with the technology of modern motorcycling. It's not cumbersome to wear because it's lightweight. It also comes with a super comfortable fit with adjustable straps.
The helmet is perfect for cruising around town on your motorcycle.
Pros
---
Aesthetic retro styling
DOT-approved safety features
Breathable liner
Inexpensive
Make and Style
Do you want the bad boy look without a motorcycle gang? Then look no further.
The ILM half retro helmet protects your head while making you look like a badass—no criminal record required! The helmet is perfect for you, whether you're looking for that Sons of Anarchy vibe or want to feel like a rebel on the street.
Since it's a half helmet, you can easily see everything around. It will also provide maximum protection that a half helmet can provide—and all the while, your friends will be floored by how cool you look.
Safety and Comfort
The ILM half helmet is made with a quality ABS shell and high-density EPS foam liner, so you can be sure it'll be up to the task should anything unexpected happen on your way to work or your next adventure.
Since it's DOT-approved, you can feel safe when driving on your motorcycle with this helmet on. The interior lining is made from a comfortable material, and the helmet has a quick-release chin strap, so once you've arrived at your destination, it's easy to get off and get going.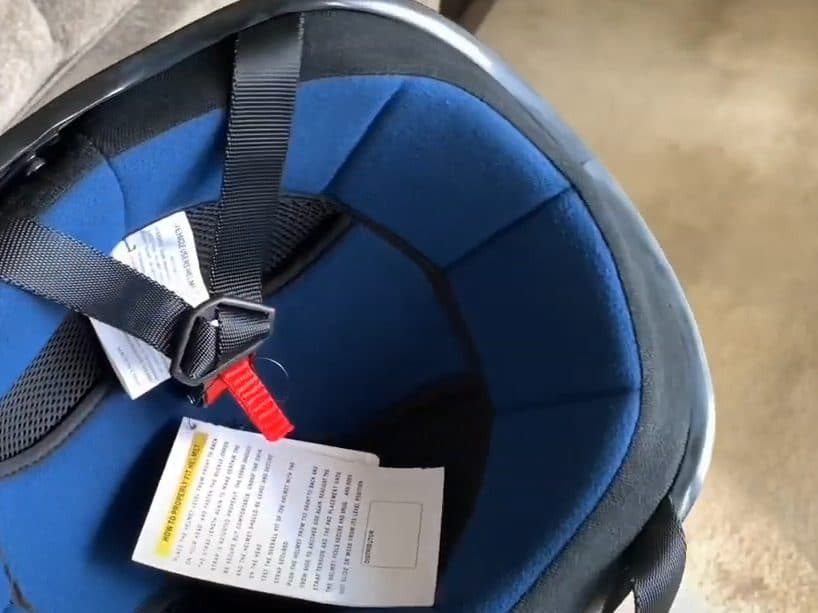 It's incredibly challenging to ride on a hot day. But the ILM gives a solution by providing a drop-down tinted sun visor (if you want a clear one, you have to buy it separately).
A breathable mesh liner provides superior venting that reduces heat at the top of your head. When you're stuck in traffic, you won't be sweating buckets just because you're wearing a helmet.
And the best part? This helmet is so lightweight and comfortable that you forget it's even there!
Noise Level
It's a half helmet, so it's not going to block any noise. The leather flaps cover the ears, but they're not enough to eliminate the wind's sound.
Why would I recommend this helmet?
The helmet features an advanced lightweight ABS shell and a multi-density EPS impact absorption liner. The aerodynamic design reduces wind noise and drag.
There's also a breathable mesh liner layer that keeps you cool, dry, and comfortable all day long.
So go ahead. Grab this helmet, and then grab your hog. The roads are calling.
---
The Best Retro Motorcycle Helmet: Buying Guide
Helmets are essential for road safety.
But that's not all they can do! Helmets can also be a stylish, fun way to express yourself on the road. And when it comes to cool style and function, few helmets are more popular than retro motorcycle helmets.
What Is a Retro Motorcycle Helmet?
A retro motorcycle helmet incorporates old-school style elements into modern-day engineering standards and quality features. Its safety meets style meets nostalgia.
Retro motorcycle helmets are great for riders who want to stand out from the crowd and make sure their helmets are an extension of their personality and style.
YOU MAY LIKE: What Are the Best Motorcycle Helmets for Visibility on the Road?
What's the Appeal of Vintage Helmets?
The allure of vintage motorcycle helmets is undeniable, and there's a good reason for that. Your helmet is more than just a safety device. It's a fashion statement, a way to express yourself, and something people notice when they see you. So why not go for something that makes you stand out—and maybe even gets you a few compliments on the street?
Anyone would want to get a retro motorcycle helmet for the same reason they would like to get anything retro. It's a throwback to a simpler time, which always sounds better than the complicated, messy world we live in today.
Of course, motorcycle helmets didn't exist before 1914—the only thing protecting riders' heads from rocks and asphalt was their finely coiffed hair or a padded leather cap at most.
Helmet design took a giant leap in 1953 when C.F. Lombard, a USC professor, developed impact-absorbing helmets. In the same year, race car driver Roy Richter (the founder of Bell Helmets) polished that design and brought the Bell 500 model by following the safety standards of aviation helmets.
The Bell 500 was an instant hit and marked the beginning era of modern motorcycle helmets. Since then, helmets have gone through many changes—design-wise and safety-wise.
Today, most helmets are made to look as sleek as possible—just like the newest car designs or trends in eyewear. But a good chunk of us still prefers to show off our retro sides with a throwback-style helmet that nods to decades gone by.
If you are interested in the history of motorcycle helmet's evolution, check this following book.
The Motorcycle Helmet: The 1930s-1990s
Motorcycle helmets have undergone several major design revolutions since the 1930s. It has become an essential part of the biker's look, from the simple leather skullcap to the full-face crash helmets and street-style headgear. This book traces the helmet's evolution from old-time to the end of the 20th century, explaining how these radical changes came about.
How Are the Retro Style Different from Modern Helmets?
Vintage is the way to go when it comes to cool-looking motorcycle helmets. Modern helmets may have more safety features and be easier to wear, but they don't give off those old-school vibes.
Here are three reasons that these helmets are different from their modern counterparts:
It's about style, baby!
In fact, the style of your helmet can mean the difference between looking like a total badass and looking like some dork from the future. Retro helmets give you a timeless look that never goes out of style—and that means you'll always be swaggin' on your bike.
The weight your noggin can carry
Retro-style helmets are typically heavier than their modern-looking counterparts. But you can still get incredibly light state-of-the-art vintage lids. These high-end helmets are expensive, but most will weigh between three and four pounds.
Pay homage to the old time
A retro helmet is for you if you're nostalgic about the '50s, '60s, and '70s style or just like motorcycles in general. Motorcycling is a lifestyle, not just a hobby, so most people who ride are highly passionate about it. If that sounds like you, you will love a retro-style helmet over a more modern-looking one.
Retro Motorcycle Helmet Types
a. Full-face helmets
The full-face style is the most popular helmet type. It covers the whole head, including a wrap-around chin bar for maximum protection.
They have the best safety features among all types and provide a quiet environment when you race through the highway. Less airflow could be a problem in some models, but most modern full-face helmets ensure adequate ventilation.
b. Half helmets
The half helmet (sometimes called "brain bucket") covers about half of the rider's head: the crown, back, and sides, but not the forehead and chin areas.
They are convenient to carry around and easy to wear when you are riding off into the sunset.
Many people like them because they are lightweight and provide the best ventilation during the hot summer months. But they offer minimal protection from impact and injuries, so keep that in mind.
c. Three quarter (¾) or open face helmets
As the name suggests, these helmets cover almost three-quarters of your face. They don't have a chin bar, but a flexible visor protects your eyes and face. You can move the visor up or down to block sun and debris.
Open face helmets are great for highway driving because they balance safety, cooling, and comfort.
d. Flip up or modular helmets
Modular are full-face helmets with the flexibility of open-face style. They offer convenience and versatility in one package.
When the chin bar of a modular helmet is flipped up, it provides the same open face experience of three-quarter and half helmets. When you need to ride safely again, just flip the chin bar back down and attach it securely.
How to Choose the Best Retro Motorcycle Helmet
When buying a vintage helmet, you need to look for a few things, such as style, fit and comfort, weight, ventilation, visor, and noise level.
We realize that this might sound like a lot to consider before purchasing. Don't worry! This guide will break down what each one means so you can shop for your next helmet with confidence.
Style
A vintage helmet is undoubtedly a fashion statement. After all, you buy it to turn heads on the road, for the compliments, and to add to your personal style. So, it makes sense to purchase a stylish product.
A helmet can be made out of high-quality material, but if it doesn't fit your aesthetic preferences, then it's nothing more than a brain bucket (literally).
Fit and Comfort
Several factors, including size, weight, padding, and ventilation, are covered within the fit and comfort parameters.
Size: For any motorcycle helmet, it's essential to pick the correct size. If it's too small, you won't have comfort, and if it's too big, it'll slide around on your head and give you neck pain. You should measure your head at the widest point to determine the correct size.
Sometimes, helmets will "break-in" a little, becoming looser after being worn a few times. If this happens, you can tighten up the straps so that it fits properly on your head again.
Weight: Next, check the helmet's weight. You should be able to hold the helmet in one hand for at least 20 seconds without any discomfort. If it's too heavy for that, get a lighter one.
A too heavy helmet can cause neck fatigue or damage your spine over time. So, always be careful about the helmet weight to stay comfortable when wearing it for extended periods.
Padding: The helmets should have adequate interior padding to reduce the risk of head injuries. There could be low-density foam liner, crushable padding, and other forms of cushioning. The helmet should feel comfortable and fit your head perfectly with all wadding.
Ventilation: Is there plenty of airflow through the vents? You should be able to breathe easily when wearing this helmet—not stifling. Are the vents adjustable? Do they provide enough air circulation? If not, the helmet could feel stuffy, and you could work up a sweat.
Safety
If you're riding your bike on the streets, your helmet must meet DOT requirements. It means the Department of Transportation has to approve it. And while they do some pretty cool stuff (like work with NASA), they're not known for their sense of style. So, yeah. You'll have to find one that looks good on you, too.
If you live outside the United States, make sure your helmet has the ECE R22.05 certification. It's an international certification standard, which means that your helmet meets specific safety and performance requirements in Europe.
The safety also depends on the material the helmet shell is made of. Plastic/ABS shell lids are cheaper but don't block the impact well. Composite fiber lids (made of fiberglass, carbon fiber, and carbon-kevlar) are the best choice because they are lightweight and suitable for absorbing force. These are more expensive, but you will get the best protection.
Finally, the visor is another essential component for creating a safe environment. Is it removable? Does it have multiple settings? Can you flip it up and down quickly? The ability to adjust your visor is critical when switching between night and day driving.
Also, the visor should not be too small or too big. Your eyes should have a clear vision of the road ahead while still being protected.
YOU MAY LIKE: Best Motorcycle Products to Stay Safe on the Road
Noise Level
Don't forget to check the helmet's noise level. You may not realize it, but many motorcycle helmets can be pretty loud, even with earplugs in. So, if you want to keep your hearing intact, find headgear that offers a quiet environment.
Each helmet has a different sound profile that could make or break your ride experience.
---
Conclusion
Retro motorcycle helmets are a fun way to celebrate an old era. The choices are plenty, but the ones we've reviewed here are worth a look and should prove well worth their cost. They stand out from the crowd with a bold, in-your-face design without compromising safety and comfort. The kookiness factor in these helmets is just a bonus.
At the top of our list is TORC's T1, a retro-style helmet with lightweight, hard-shell construction. We also like the Bell Custom 500 helmet, which is inspired by the look of Bell's original 500 helmets from the '50s.
---
FAQs about the Best Retro Motorcycle Helmet
Are retro helmets safe?
Though retro motorcycle helmets may not look like something that would be used for protecting your head, they are just as safe as modern helmets. Most high-end retro helmets have a protective shell, single or multi layers of EPS liners, and other DOT or ECE-approved safety features.
What is a café racer helmet?
Any helmet that can suit a café racer is a café racer helmet. So, it's evident that all helmets that show off the looks of the times gone by fall into this category.
Which motorcycles look good with vintage helmets?
Vintage helmets will look good with motorcycles featuring stylish retro fairings. So, you can pair them with a Harley, Honda, Café Racer, or a Scrambler. In fact, any bike with an old-school look, be it a custom bike or a restored classic, will look good with these helmets.
What is the coolest retro motorcycle helmet?
Almost all renowned helmet brands have a line of retro helmets that include a few great options. So, singling out the coolest design depends on personal preferences. You can still look into the collections of TORC and Bell since they offer some fabulous options.
Do vintage helmets lack advanced features?
Absolutely not. All helmets these days, whether they look like your grandfather's brain bucket or a futuristic take on imaginary alien technology, are equipped with standard safety and comfort features. Some models may lack minor details, but you will always find enough options with advanced features.
What is the safest motorcycle helmet?
There's no way to single out a model as the safest motorcycle helmet. However, brands like Arai, Bell, Shoei, and AGV manufacture helmets with top-shelf safety technologies. These vintage helmets will be pretty expensive, but you can find a middle ground in our recommended list.
Are open face helmets less safe?
Open face helmets do not provide as much protection as full face helmets in certain impact scenarios. However, when fitted properly to conform to a rider's head, DOT-approved open face retro motorcycle helmets still meet safety requirements and offer base-level impact protection for most crashes.
What style looks best for someone over 50?
Many retro-inspired helmets with classic round shapes and simplistic designs typically look flattering on riders of all ages. Features like drop down sun visors and universal fit also give a timeless and ageless appeal. However, ultimate comfort, visibility and safety should be top priority over strictly aesthetic concerns.
Do retro helmets get hot?
In general, all motorcycle helmets tend to trap heat, but retro helmets usually have better ventilation due to their open design with fewer contours. Some modern retro helmets match top-end modern helmets for airflow and cooling capabilities.
How long do helmets last?
Well-cared for helmets typically last 5-7 years before replacement. Over time, the EPS foam and materials degrade from factors like UV exposure and abnormal impacts. Most manufacturers recommend replacing a helmet within 5 years for highest safety.
How do I remove scratches?
Minor scratches on the outer shell of a retro helmet can often be removed using fine-grade sandpaper or sanding sponges by hand. For deeper scratches, using polishing compounds and a dremel tool set on a slow speed can help eliminate marks. Always reapply protective coatings after scratch removal.